Reviews for
Probiotic Miracle
and Enzyme Miracle edited for spelling only
Issues: Boxers with Gas, Tummy Upsets, and Poor Appetite
User rating: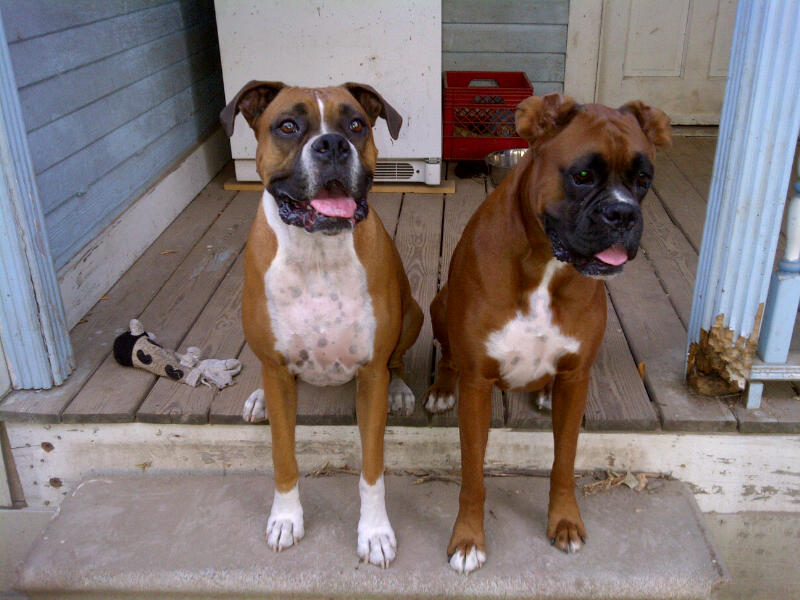 I am sending you a a photo of my Boxer Boys, Woodrow is the dark one .. he is 3 yrs and my flashy fawn next to him is Augustus he is 6 yrs old  .... They have been on the Enzyme/Probiotics for over a month now and are doing great !!!!  The gas has almost stopped and no tummy upsets and they are both eating so much better .. Thank you for a great product and your customer service is fantastic.... keep up the great work and will be reordering. 
---
Issues: Chihuaua / Dachsund with Sensitive Stomach, Vomiting
User rating:

Wonderful probiotic! Can't say enough about it…my chihuahua/dachsund mix has never been a good eater and used to occasionally vomit for no apparent reason. I buy high quality dog food (nothing from the grocery store) and do not give any people food or snacks, but he still would not eat his regular dog food on a regular basis. 2 weeks after starting him on this, he not only eats his meals…but begs for them :) He rarely vomits and can tolerate wholesome dog cookies. He's been on it now for 2 years and his coat noticably improved in 2 weeks of trying it. I ran out a year ago and thought it had been a fluke..wasn't going to reorder (trying to save money) and within 2 weeks his original symptoms returned. I did try it with my older siamese who has some digestive/colon problems. He did not do well…threw repeatedly after being on it only a few days. But he doesn't tolerate much.
---
Issues: Arthritis
User rating:

My beautiful rottweiler of 11 years was starting to have trouble raising her hind legs from the floor. It was worst during rainy days. She would just lie on the floor most days. Some time went by, then a friend of mine recommended some enzymes for dogs, Enzyme Miracle, to me. She had good results with it for some other issues… After using Enzyme Miracle for just 4 weeks Aries was climbing the stairs and actually running again. I could hardly believe what I was seeing. We will be customers for a long time. — Janet R., Eugene, OR
---
Issues: Bad breath, thyroid condition, arthritis, skin problems, excessive shedding
User rating:

I do not normally comment on purchases but I simply felt compelled to. I purchased the Probiotic miracle and Enzyme miracle for my 2 dogs, a nearly 11 year old Great Pyrenees and 13 year old large lab mix with a thyroid condition. They have both battled cancer, arthritis, hip dysplasia, skin problems, and excessive shedding to name just a few of their seemingly common "geriatric symptoms". It was hard to watch them deteriorate over the last few years. We tried everything the vet recommended but had begun to resign ourselves that this is what happens when they get older. Then I stumbled on this site. I figured, "Why not?" After just a few days, the lights came back in their eyes. They were more energetic and playful. My pyrenees which suffers from bilious disease (similar to acid reflux) stopped refusing to eat and started being excited at meal time for the first time in her entire life. I no longer have to coax her to eat! After a week, they were running around, in winter, without a limp or hitch in their step. Even more amazing, the color is starting to return to my lab mix's very white coat. No more doggy smell or doggy breath either. Its like it took years off their age in such an amazingly short time. These are products that I highly recommend to anyone with a senior dog, or dog of any age for that matter. Mine will be on them for the rest of their lives. Thank you! Thank you! Thank you for this product! (sent via email 12/21/2010)
---
Issues: Bad odor, coat issues, allergies
User rating:

Lilly has been a generally healthy dog for many years, but we started to notice that she was looking dull and lacked energy. She started smelling really bad, bad breath, very bad gas. She also had a yellow discharge from her eyes. The vet told me it was a yeast issue… The antibiotics seemed to help for a while, but each time we used them the symptoms came back worse a few weeks or so later. I'm very thankful to you for making this product. I felt so bad giving little Lilly all those drugs. She is very healthy now and seems to be staying that way. No yeast or allergy issues for 9 months now. Her coat is also shiny and healthy looking, she smells good and acts healthy too! :) We'll be buying these natural products for as long as we have dogs. — M. McDonnel, Phoenix, AZ
---
Issues: Yeast overgrowth, yeast infection, rash, itching, licking, bad smell
User rating:

Our dog, Rascal, had a rash and a very bad smell from her rear end. I tried everything to get rid of it including spending hundreds on prescriptions from the vet that just seemed to make things worse. Wow, she really smelled terrible and seemed miserable. We heard that probiotics for dogs could help with yeast overgrowth and a friend also recommended using the digestive enzymes. We decided to try the Miracle Pack which is the enzymes and probiotics. When we started adding the probiotics and digestive enzymes to her food, her rash cleared up within 2 weeks and there really is no smell from her rear end any more. We could see most of the improvement just after the first week! Thank you! — Rachel B, California
---
Tiger : Issues: General health maintenance
User rating:

So far, so good. Tiger is a 30 month old mini schnauzer. We have had him in the show ring off and on over the last 18 months… He has been growing a new jacket after a stripping in May. So far the coat looks excellent. Harder and darker than the last coat. He has only been on the probiotics and enzymes for about 3 weeks! I have also already noticed less flakiness to his skin. I have to rake and stone his jacket and he usually danders up, but NOTHING in the last two weeks. He likes the taste and has no problem eating the tabs. The most pronounced change is the dog poop. It had a most foul smell. Well, that is gone! Really strange. I guess it is a product of more complete digestion. We have lost many minis over the years to pancreas and other digestive disorders so we decided to start Tiger on these supplements young and carry him through his life. We WILL be reordering. —T. Sampson
---
Issue: Picky eater, soft stool, antibiotics
User Rating:

Hi! JUST A NOTE TO LET YOU KNOW THAT MY LITTLE MALTESE WHO IS A VERY PICKY EATTER HAS HAD SOFT STOOL PROBLEMS FOR SEVERAL MONTHS, I HAVE TRIED ANTIBIOTICS, AND DIFFERENT FOODS TO KEEP HIS WEIGHT UP AND FOR HIM TO HAVE NORMAL STOOLS. I FOUND YOUR AD ON THE INTERNET WHEN SEARCHING FOR PROBIOTICS AND WHEN I SHOWED MY VET THE INGREDIENTS HE SAID GO AHEAD AND TRY THEM. WEL.. .JUST TO LET YOU KNOW THAT I HAVE BEEN USING BOTH PRODUCTS FOR ABOUT A MONTH NOW, AND MY LITTLE MALTESE LOVES THE TASTE AND HAS BEEN EATTING ALL HIS FOOD. THE BENEFITS HAVE BEEN GOOD NORMAL WEIGHT, PLUS GOOD STOOLS!!!! AND NO ANTIBIOTICS!!
I ALSO HAVE SOME OLDER DOGS THAT WITH AGE HAVE FINICKY STOMACHS, AND WITH THE ADDITION OF BOTH PRODUCTS(ENZYMES AND PROBIOTIC) THEY TOO HAVE BEEN GOOD!
SINCERELY,
DARYL MARTIN
---
Jazz : Issues: Throwing up, vomitting, digestive issues
User Rating:

My dog Jazz is 10 1/2 years old. She has always be a difficult dog to feed. Over the years we gave up fighting with her and went to a cooked diet designed for dogs. This had been very successful. She enjoys her food, her weight is perfectt and coupled with an Organic dry food, she has done really well.
In the last year or so, she started throwing up in the middle of the night, undigested food. There was only a small amount but she consistently threw up twice a week. Not only was I concerned about her but she was leaving some terrible marks all over the carpet upstairs.
My husband and I routinely take enzymes when we eat heavy food or meat, or an unusual combination that is rich and difficult to possibly digest. They help us a lot. So I decided to find out if they make them for dogs. And thanks to your great product, we are doing much better.
Jazz is 40 lbs. She gets one tablet with breakfast and two with dinner. Originally, she took one with each meal, but required more in the evening. No more throwing up. Adding the tablet has not affected her eating. Thank goodness there is no smell or taste !!!!!!!!!!!!!!!!!!!!!!!!! She is doing much better. Hopefully, this will continue.
Thank you for the ability to order in bulk and save money.
All the best,
Laura Seidel & Jazz
---
Issue: Loose stools,vomiting, yeast imbalance
Rating:

The day after we picked up our 15 month old Bernese Mountain Dog from the vet after a routine procedure he became very sick. We surmised that the anesthesia and antibiotic combination knocked his defense system and his intestinal track for a whack – resulting in very loose stools, vomiting, and a yeast imbalance. His insides were so "sore" that he could barely get off the floor by himself. We put him on very bland diet and began giving him your Miracle-zyme plus probiotics – 4 tablets per day. We believe that this helped speed his recovery by returning the good bacteria that the antibiotics destroyed. He is back to normal and gaining back the ten pounds that he lost. He eats the tablets directly out of my hand – like they are a treat. His yeast problems have disappeared, his fur is shiny, and his smile has returned. We'll be ordering the powdered versions soon.
Keep up the good work.
David
---
Issue: Loose Stool – Immediate Improvement
Rating:

The Nusentia Probiotic Miracle is a miracle. When we got Daisy, our rescue Aussie, she was extremely underweight and had terrible loose stool problem. I had all the tests done at the vets to rule out parasites and she was clear. Almost immediately she improved on your product. She has now gained to a healthy weight and her stool is fine.
---
Issue: Allergies – "Hello probiotics, goodbye Benedryl!"
Rating:
Last March we had to make a decision about getting our 9 year old Cocker Spaniel allergy testing or try something else. She had been on Benadyl the entire summer before and we just didn't want to do that anymore. We found Nusentia's website and decided to give it a try. Last summer Cocoa,Lobo and Shadow did not need 1 Benadryl. We give them Miracle Enzymes and Probiotics every day. They are so healthy. Thank you. God Bless You!
---
More Reviews for Probiotic Miracle®
Immediate improvement for loose stool Review by M. Hamlin
The Nusentia Probiotic Miracle is a miracle. When we got Daisy, our rescue Aussie, she was extremely underweight and had terrible loose stool problem. I had all the tests done at the vets to rule out parasites and she was clear. Almost immediately she improved on your product. She has now gained to a healthy weight and her stool is fine. (Posted on 6/6/12)
Hello Probiotics, good-bye Benadryl. Review by CoLoShad
Last March we had to make a decision about getting our 9 year old Cocker Spaniel allergy testing or try something else. She had been on Benadyl the entire summer before and we just didn't want to do that anymore. We found Nusentia's website and decided to give it a try. Last summer Cocoa,Lobo and Shadow did not need 1 Benadryl. We give them Miracle Enzymes and Probiotics every day. They are so healthy. Thank you. God Bless You! (Posted on 4/24/12)
I LOVE your products! Review by Crystal
I just want to say that I LOVE your products! My English bulldog, Noodle, has been suffering since May with the side effects from an undiagnosed low thyroid problem. All of his fur fell out and he was covered with sores. He (and we) were miserable. I started researching what I could online to try to help him because the vet was stumped (until the thyroid was diagnosed) and I came across your probiotics. We have been using Dermix and MiracleZyme Plus for several months now and he is improving so much. He had been on so many steroids, antibiotics, antihistamines, and other medications that his poor digestive system was all messed up. We dosed him with the probiotics during his antibiotic treatment and it did keep his digestive problems from getting too bad (we gave him a normal dose about 3 hours after his antibiotics every night). As soon as he finished with the antibiotics we started giving him a double dose of the probiotics to help him avoid another yeast infection and it really helped. Now he is getting his hair back, he has normal bowels movements, he has more energy, and his skin health is constantly improving. I think we may have him cured in the next month or so, but we will never stop giving him the Nusentia supplements! (Posted on 1/13/12)
Just like the name...MIRACLE Review by Live and Love Dogs
My pit as been on this product for about 1 month now. She had severe digestive issues that are almost completely gone! She has no problem eating her food with the mixture in it and has become happier and more playful!

4 paws up!!! (Posted on 3/7/11)
A Miracle! Review by Pamela
I wanted you to know that my 9 year old yorkie that has been on probiotics for about a week or so has had am amazing clear-up of all the discharge from around his eyes that I always had to wipe every morning and the vet said it was because of small tear ducts. He is very small only 4 ibs. Thank you so much for your wonderful product.

My other 6 lb. yorkie has stopped throwing up his food after only one dose! 
A Miracle!!!!!!

Thank you Thank you and Thank you again. May Light and Love shine into your lives!

(Posted on 2/24/11)
Resolved Issues: Bad breath, thyroid condition, arthritis, skin problems, excessive shedding Review by Jbils
I do not normally comment on purchases but I simply felt compelled to. I purchased the Probiotic Miracle and Enzyme miracle for my 2 dogs, a nearly 11 year old Great Pyrenees and 13 year old large lab mix with a thyroid condition. They have both battled cancer, arthritis, hip dysplasia, skin problems, and excessive shedding to name just a few of their seemingly common "geriatric symptoms". It was hard to watch them deteriorate over the last few years. We tried everything the vet recommended but had begun to resign ourselves that this is what happens when they get older. Then I stumbled on this site. I figured, "Why not?" After just a few days, the lights came back in their eyes. They were more energetic and playful. My pyrenees which suffers from bilious disease (similar to acid reflux) stopped refusing to eat and started being excited at meal time for the first time in her entire life. I no longer have to coax her to eat! After a week, they were running around, in winter, without a limp or hitch in their step. Even more amazing, the color is starting to return to my lab mix's very white coat. No more doggy smell or doggy breath either. Its like it took years off their age in such an amazingly short time. These are products that I highly recommend to anyone with a senior dog, or dog of any age for that matter. Mine will be on them for the rest of their lives. Thank you! Thank you! Thank you for this product! (sent via email 12/21/2010) (Posted on 1/13/11)
Bingo! Review by Nelson
Will purchase again, this really works. (Posted on 5/20/10)
Picky eater, soft stool Review by Daryl
Hi! JUST A NOTE TO LET YOU KNOW THAT MY LITTLE MALTESE WHO IS A VERY PICKY EATTER HAS HAD SOFT STOOL PROBLEMS FOR SEVERAL MONTHS, I HAVE TRIED ANTIBIOTICS, AND DIFFERENT FOODS TO KEEP HIS WEIGHT UP AND FOR HIM TO HAVE NORMAL STOOLS. I FOUND YOUR AD ON THE INTERNET WHEN SEARCHING FOR PROBIOTICS AND WHEN I SHOWED MY VET THE INGREDIENTS HE SAID GO AHEAD AND TRY THEM. WEL.. .JUST TO LET YOU KNOW THAT I HAVE BEEN USING BOTH PRODUCTS FOR ABOUT A MONTH NOW, AND MY LITTLE MALTESE LOVES THE TASTE AND HAS BEEN EATTING ALL HIS FOOD. THE BENEFITS HAVE BEEN GOOD NORMAL WEIGHT, PLUS GOOD STOOLS!!!! AND NO ANTIBIOTICS!!

I ALSO HAVE SOME OLDER DOGS THAT WITH AGE HAVE FINICKY STOMACHS, AND WITH THE ADDITION OF BOTH PRODUCTS(ENZYMES AND PROBIOTIC) THEY TOO HAVE BEEN GOOD! (Posted on 12/29/09)
Yeast cure! Review by Rascal
I was constantly looking for something to help with Rascal. She really really really smelled bad. People would sometimes not be able to stay at the house because Rascal smelled so bad. On top of that, she often has rashes, which the vet said was because of yeast overgrowth. She would lick and scratch herself all the time and drove everyone around her nuts! My mom bought me Probiotic Miracle and Enzyme Miracle to put in her food every day. I wish I had found this myself a long time ago. Within 3 weeks, she smelled GREAT! ... and NO RASH! She is wonderful to be around now. I will continue to use these products. (Posted on 12/29/09)
Thank you thank you thanks is NOT enough! Review by Miffie1020
Since I've supplemented with Probiotic Miracle, we haven't had to go to the vet even once. Jessie is so healthy now, and you can tell just by looking at her. I wish everyone knew about Probiotic Miracle, cause it saved us so much money in vet bills, prescriptions, and heartache!

Thank you again. We will be customers for a LONG time :) (Posted on 12/21/09)
Probiotic Miracle®

Powder Supplement
Probiotic supplement powder.
up to 360 servings
from: $25.99
Learn More Buy Now
Other Products
The Miracle Pack™

Powder Supplements

[Top seller] Probiotics and digestive enzymes powders.
up to 360 servings
from: $48.50
Learn More Buy Now
---
MiracleZyme™

Chewable Tablets

Probiotics and digestive enzymes in a chewable tablet.
90 count
from: $33.99
Learn More Buy Now
---
Enzyme Miracle®

Powder Supplement
Digestive & systemic enzymes powder.
up to 364 servings
from: $23.99
Learn More Buy Now